McCabe Software Sponsors Carnegie Mellon's
Tartan Racing Team
McCabe Donates Software Quality Suite for use in the DARPA Urban Challenge
9/18/2007 - WARWICK, RI - McCabe Software, Inc. has announced their sponsorship of Carnegie Mellon's Tartan Racing team. Through the McCabe University Program, the company is providing the team with its software quality management suite, McCabe IQ.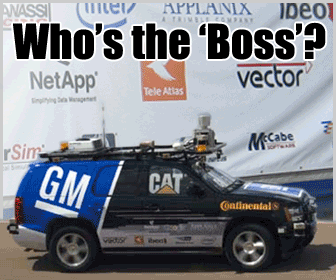 Tartan Racing will be competing in the 2007 DARPA (Defense Advanced Research Projects Agency) Urban Challenge which is a competitive rally for autonomous cars. The Urban Challenge is a competition in which vehicles have to navigate, park and deal with traffic on a 60-mile suburban course. They must operate without human guidance and rely only on sensors and computers. They must obey traffic laws, merge into moving traffic, avoid obstacles, and negotiate intersections. DARPA will award $2 million, $1 million and $500,000 prizes to the top three finishers that complete the November 3 event within the six-hour time limit. Technology from the Urban Challenge is destined to change the driving experience.
The Tartan Racing's self-driving Chevy Tahoe, called Boss, is a top contender. There are ten computers with 200,000 lines of software at the wheel. The critical nature of the software required a solution that could uncover the inherent complexity in order to mitigate risk. The Tartan Racing Team selected McCabe IQ for the job of analyzing the very large C++ code base.
Working closely with Michael Clark of Tartan Racing and Carnegie Mellon's Robotic Institute, McCabe was able to port McCabe IQ onto Ubuntu 6.06 in a matter of days.
"We are delighted to be sponsoring the Tartan Racing Team and associating our company with an institution such as Carnegie Mellon," says David Belhumeur, McCabe Software's CEO. "Their participation in the McCabe University Program grants them access to the same enterprise level quality and testing solutions as industry leaders like Intuit, MasterCard, and Lockheed Martin."
The McCabe University Program is McCabe Software's initiative to put their products into the hands of leading computer engineering programs.
The McCabe IQ suite is made up of three multi-platform, multi-language software quality management solutions. McCabe IQ Developers Edition visualizes the complexity of source code and provides a host of metrics with which to measure quality. McCabe IQ Test Team Edition identifies precisely what areas of code have been tested and facilitates improved test plans. McCabe Enterprise Edition provides all the functionality of the Developers and Test Team Editions, in addition to enterprise reporting and web-enabled test data collection.
About McCabe Software, Inc.
McCabe Software provides Software Quality Management and Software Change & Configuration Management solutions worldwide. "McCabe IQ" is used to analyze and visualize the quality and test coverage of mission, life, and business critical applications, utilizing a comprehensive set of advanced software metrics including the McCabe-authored Cyclomatic Complexity metric. Our configuration management solution, "McCabe CM", utilizes exclusive Integrated Difference technology to manage software changes faster and more efficiently, ensuring quality throughout the Application Lifecycle. McCabe Software has offices in the United States and distribution worldwide.

For more information or to schedule an interview, contact:
Jon Palmisano - 401-572-3100