McCabe CM - TRUEchange - More Agile, More Intuitive, and Faster Than Ever
Enhancements to Change Impact Viewer, CruiseControl Plugin and Administration
CRANSTON, RI - McCabe Software has announced the release of the latest version of McCabe CM – TRUEchange, McCabe's software configuration management solution for agile development. Updates in TRUEchange v3.6 include the ability to perform collaborative change impact assessments and out-of-the-box CruiseControl integration, as well as comprehensive administration, GUI, and usability upgrades.
"The focus of this release has been to continue our decade long commitment to agile development coupled with ongoing innovation and enhancement of the change-based features that have often been imitated but never duplicated," says Richard Kosinski, McCabe's Director of SCM Solutions.
Release highlights include an upgrade to McCabe's exclusive Change Impact Viewer. Now, this unique predictive technology not only shows users the consequence of implementing a change, but also enables users to perform test builds and search for text in inactive lines of code. Furthermore, users are able to share the Change Impact results with colleagues to enhance collaborative development efforts.
"A number of enhancements to the Change Impact Viewer, including speed enhancements, have been very well received by our developers that have used the Version 3.6 StreamCM (the TRUEchange Java client)," says David Platt, Lead Configuration Management Engineer at Network Solutions, Inc. "Our development engineers have embraced this unique tool because they can do 'what-if' scenarios without affecting other developers. This enables them to debug issues they have encountered due to improper code changes and also allows them to determine the impact changes will have on other code baselines of the same project."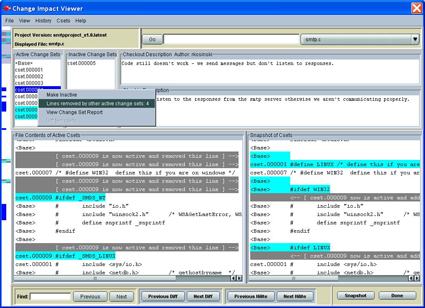 Change Impact Viewer
TRUEchange 3.6 also features improved integration with CruiseControl, the popular continuous integration tool used for custom continuous build process. McCabe customers receiving advanced copies of the new version have responded very positively to this functionality.
"The TRUEchange CruiseControl plugin is a terrific addition to the product and has been performing flawlessly," adds Platt. "It has given us the added benefit of reduced load on the systems since only modified files are extracted from TRUEchange."
About McCabe Software, Inc.
McCabe Software has provided Software Quality Management and Configuration Management solutions worldwide for over 30 years. "McCabe IQ" analyzes the quality and test coverage of critical applications, utilizing a comprehensive set of software metrics including the McCabe-authored Cyclomatic Complexity metric. "McCabe CM" is the only Software Change and Configuration Management solution to utilize "integrated difference" technology. McCabe Software has offices in the United States and distribution worldwide, and can be found on the web at www.mccabe.com.

For more information or to schedule an interview, contact:
Jon Palmisano - 401-572-3100